SPIRITUALITAS PEMBAKTIAN DIRI DALAM AJARAN ST. MONTFORT DAN RELEVANSINYA BAGI UMAT KRISTIANI ZAMAN SEKARANG
Keywords:
Spirituality, Consecration of Self, Montfort, Christians
Abstract
Christians today are apparently lacking in giving meaning to their daily lives according to their vocation. Their way of life tends to regard pleasure and enjoyment of material matters as the main goal in life. Its consequences are clear, namely, their lives feel empty and they are easily discouraged. Such a way of life is similar to the situation of the Christians at the time of Montfort, namely many of them glorified worldly possessions by organizing wild parties. Responding to this situation, Montfort propagates the spirituality of Consecration of Self to bring Christians into union with Christ. Consecration of Self is a perfect way to come to Jesus and unite with Him. Renewing the Christian spirit isn't but renewing the unity and likeness with Christ. According to Montfort's conviction, this union with Christ is more intensively achieved through Mary. Meaning, perfection of life cannot be reached through a materialistic, hedonistic, and consumerist way of life. In other words, being a Christian means being ready to live up to one's vocation to become more Christ-like. Consecration of Self is not only related to outward actions but is also related to living it interiorly. Outward action becomes the realization of internalization. Outward actions will also help Christians to achieve internalization. The combination of the two brings Christians to holiness. Consecration of Self is ultimately a powerful means to stimulating the strength of spiritual life within us, so that our likeness with Jesus Christ becomes increasingly perfect.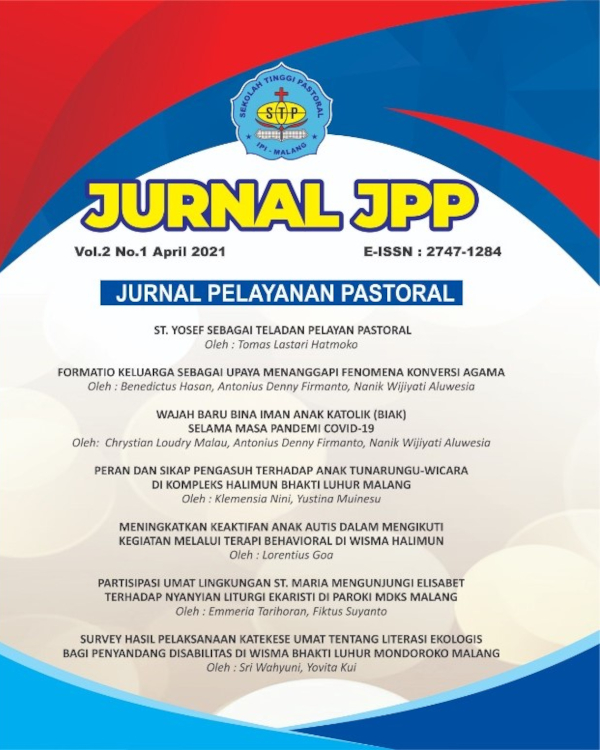 Downloads
How to Cite
Kanelmut, P., Firmanto, A. D. ., & Aluwesia, N. W. . (2022). SPIRITUALITAS PEMBAKTIAN DIRI DALAM AJARAN ST. MONTFORT DAN RELEVANSINYA BAGI UMAT KRISTIANI ZAMAN SEKARANG. Jurnal Pelayanan Pastoral, 3(1), 41–54. https://doi.org/10.53544/jpp.v3i1.288
License
Jurnal Pelayanan Pastoral (JPP) diterbitkan berdasarkan ketentuan Creative Commons Attribution 4.0 International License (CC BY 4.0). Lisensi ini mengizinkan setiap orang untuk Berbagi: menyalin dan menyebarluaskan kembali materi ini dalam bentuk atau format apapun; Adaptasi:mengubah, dan membuat turunan dari materi ini untuk kepentingan apapun, termasuk kepentingan komersial, selama mereka mencantumkan kredit kepada Penulis atas ciptaan asli.
Pengguna situs web ini berlisensi:
Lisensi *Creative Commons
Ciptaan* disebarluaskan di bawah Lisensi Creative Commons Atribusi 4.0 Internasional