"OMNIA IN CARITATE": MODEL PELAYANAN PASTORAL TERHADAP ORANG MISKIN DI TENGAH PENDEMI COVID-19
Keywords:
Church, Covid-19, Omnia In Caritate, Pastoral, Poor People
Abstract
This article concentrates on analyzing the pastoral model in the spirit of "Omnia in caritate" as one of the important responses to the economic impact of the spread of COVID-19 which has caused many people or people to fall into poverty. The main problem highlighted in this research is the phenomenon of church service which is still conceptual-theoretical and linturgicentric. This means that the ministry of the Church is still limited to teaching and dwelling on pastoral theological concepts, and still concentrating on ritual piety centered on the altar. The pastoral ministry of the Church has not yet reached the concrete market of life. Using document studies, this article concludes that pastoral care inspired by the spirit of omnia in caritate is a contextual and relevant model of pastoral care amid a pandemic. The omnia in caritate spirit is able to reach people affected by the COVID-19 pandemic, especially those who fall into poverty.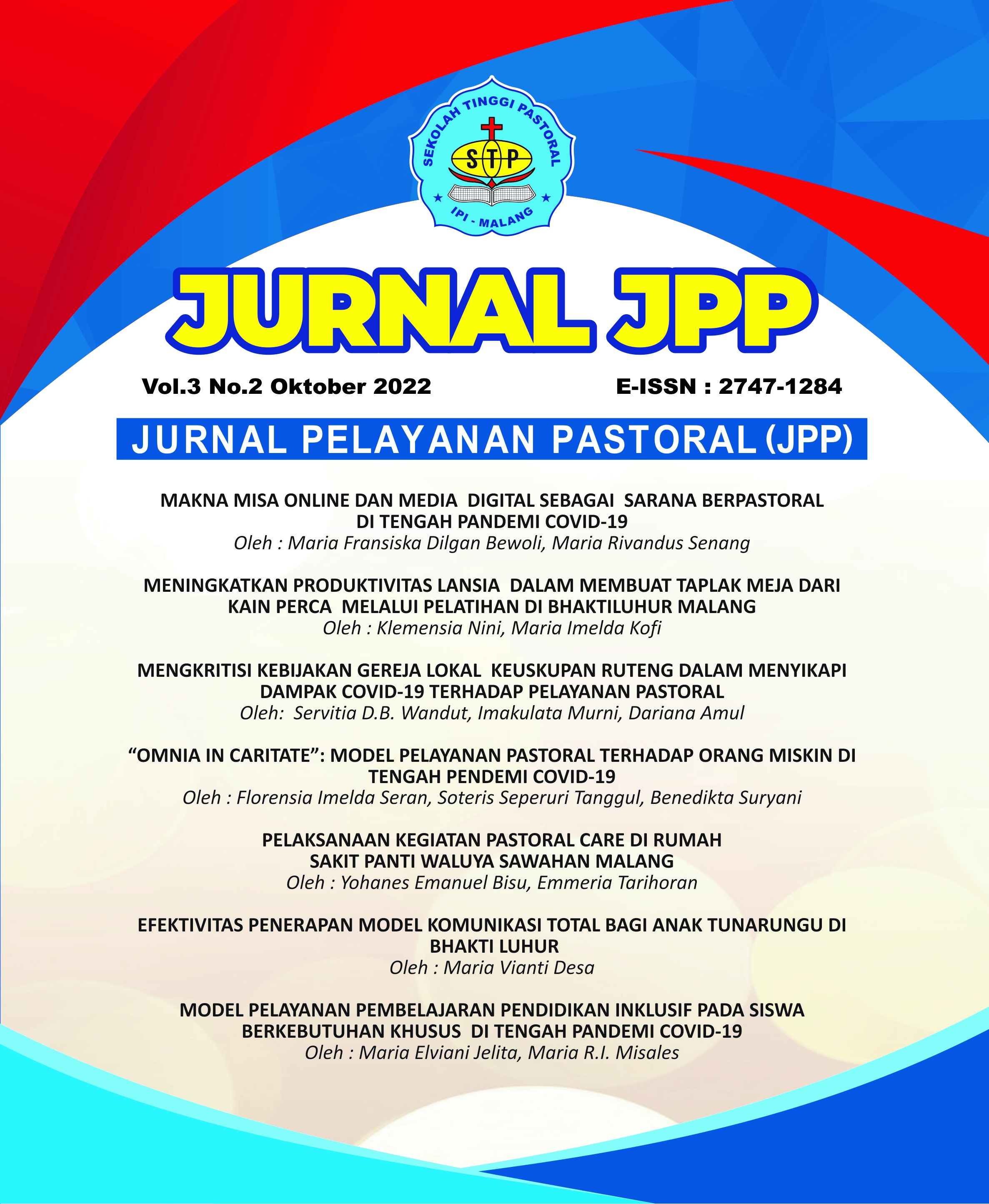 Downloads
How to Cite
Imelda Seran, F., Seperuri Tanggul, S., & Suryani , B. (2022). "OMNIA IN CARITATE": MODEL PELAYANAN PASTORAL TERHADAP ORANG MISKIN DI TENGAH PENDEMI COVID-19. Jurnal Pelayanan Pastoral, 3(2), 105–112. https://doi.org/10.53544/jpp.v3i2.324
License
Copyright (c) 2022 Jurnal Pelayanan Pastoral
This work is licensed under a Creative Commons Attribution-NonCommercial-NoDerivatives 4.0 International License.
Jurnal Pelayanan Pastoral (JPP) diterbitkan berdasarkan ketentuan Creative Commons Attribution 4.0 International License (CC BY 4.0). Lisensi ini mengizinkan setiap orang untuk Berbagi: menyalin dan menyebarluaskan kembali materi ini dalam bentuk atau format apapun; Adaptasi:mengubah, dan membuat turunan dari materi ini untuk kepentingan apapun, termasuk kepentingan komersial, selama mereka mencantumkan kredit kepada Penulis atas ciptaan asli.
Pengguna situs web ini berlisensi:
Lisensi *Creative Commons
Ciptaan* disebarluaskan di bawah Lisensi Creative Commons Atribusi 4.0 Internasional