EFEKTIVITAS PENERAPAN MODEL KOMUNIKASI TOTAL BAGI ANAK TUNARUNGU DI BHAKTI LUHUR
Keywords:
children who are deaf-speech, total communication
Abstract
Deaf children are children who experience obstacles in getting access to language sounds through the sense of hearing so that their language development experiences obstacles, especially the development of spoken language. The development of spoken language in everyday life is a communication tool that is widely used by people in interacting with each other. Difficulty in interacting with people experienced by deaf children, thus requiring the application of an appropriate total communication model. The application of total communication can be used as an alternative to convey feelings/thoughts/ideas to others. There are various models of total communication, namely total oral, manual, aural and graphic communication. The application of total communication should be adapted to the needs and characteristics of deaf children. In the application of total communication, it really requires the cooperation of teachers, therapists and parents to train deaf children so that they can develop well. This research was conducted on 3 deaf children at Bhakti Luhur. The purpose of this study was to describe the application of a total communication model for deaf children. This type of research is descriptive qualitative. The data obtained in this study were based on the results of interviews, observations of 3 main informants of deaf children and 2 additional informants who were in charge of the homestead. The results of the study indicate that the application of the total communication model is less effective.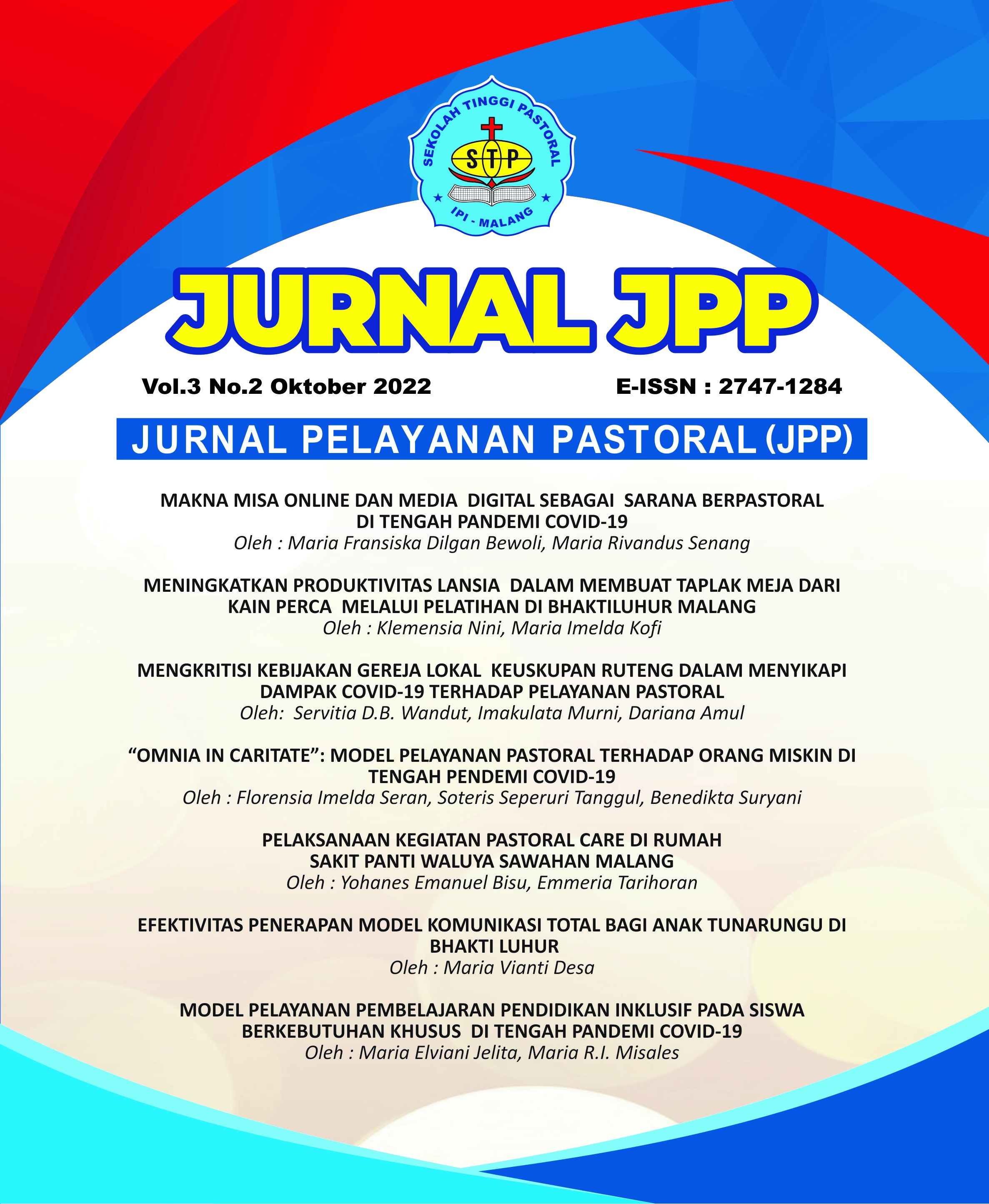 Downloads
How to Cite
Vianti Desa , M. (2022). EFEKTIVITAS PENERAPAN MODEL KOMUNIKASI TOTAL BAGI ANAK TUNARUNGU DI BHAKTI LUHUR. Jurnal Pelayanan Pastoral, 3(2), 120–126. https://doi.org/10.53544/jpp.v3i2.340
License
Copyright (c) 2022 Jurnal Pelayanan Pastoral
This work is licensed under a Creative Commons Attribution-NonCommercial-NoDerivatives 4.0 International License.
Jurnal Pelayanan Pastoral (JPP) diterbitkan berdasarkan ketentuan Creative Commons Attribution 4.0 International License (CC BY 4.0). Lisensi ini mengizinkan setiap orang untuk Berbagi: menyalin dan menyebarluaskan kembali materi ini dalam bentuk atau format apapun; Adaptasi:mengubah, dan membuat turunan dari materi ini untuk kepentingan apapun, termasuk kepentingan komersial, selama mereka mencantumkan kredit kepada Penulis atas ciptaan asli.
Pengguna situs web ini berlisensi:
Lisensi *Creative Commons
Ciptaan* disebarluaskan di bawah Lisensi Creative Commons Atribusi 4.0 Internasional